Big love.
Almost everyone who has dogs says to have had this love for dogs their whole life. With me it's no different, when I was a little kid I couldn't stay away from dogs and other animals. I loved to walk with the dogs from the neighbourhood, everyone got worried then because I stayed away so long!
When I was 25 I got my first dog. Totally unexpected, mr. Hoffman from the "Kafiristan" kennel died, while I had an appointment with him the next day... Not for a puppy, just to take a look at Italian Greyhounds, I never saw them before. But this was a strange situation, his dogs needed a home and so Oberon entered my life in September 1995. It was love at first sight. He became almost 13 years old, and will always be in my heart.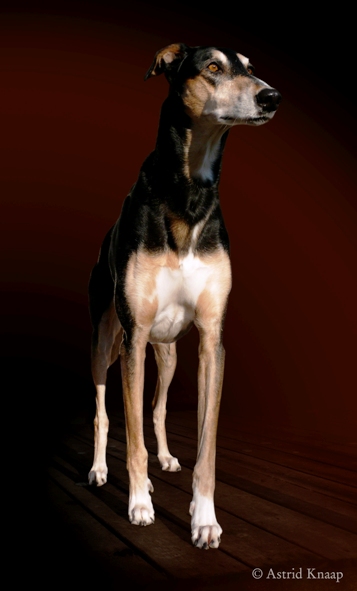 That's where it all began, with Kafiristan's Oberon.
Oberon wasn't that happy alone, so in November I arranged a friend for him: Fiefoerniek's Freixenet. This was an exeptional duo, I didn't realize that in the beginning. Oberon was a very good dog at the shows and became very soon Dutch Champion. I met several people in "dogworld" and some said to me that I had to take a look at the racetrack. ... Racetrack? I had never heard of that... But, I did and tried to let run Oberon and Freixenet after the lure. Soon was clear that Oberon was only born to be pretty, he didn't want to leave me and returned faster to me than he followed the lure!
Freixenet was a different story. He was fast! I didn't plan to go to championships, but other people convinced me to go. And so I did, and not without success! Freixenet became Worldchampion and European Champion several times at the 350 meter. He is 13 now and still crazy about the lure!
Later came Fiefoerniek's Ferocious Frodo to join "the club". He was adorable. He always had his own idea of coursing and racing! He got his licence, and has run two courses. When he ran a course, he always took a break to say hello to the audience! After that he continued his course, but the judges were not pleased by that. But I think it is pretty special: he got his licence and after that he ran two courses only to be disqualified twice! It didn't matter what he did, he was too sweet for words anyway. Unfortunately he died much too soon after a terrible accident with another big dog. He was almost 5 years old.
While I was having fun with my IG's, I kept looking for a big Sighthound, but it was so hard to make a choice... I like big, but not too much hair. And the character had to suit me and my IG's. A Borzoi? Or a Saluki? I didn't know until I saw a few Chart Polskis at the Worlddogshow in Vienna in 1996. I couldn't believe my eyes! I fell in love and I knew what I wanted. Back in the Netherlands I started searching, and with result. There was one Chart Polski in the Netherlands: Cynamon Celerrimus. I brought a visit and I was sooooooo in love again. What an amazing dog.... The owner, Lidka, was very kind and told me very much about the breed. Soon I made contact with the Celerrimus kennel and 11 May 1998 was the big day: Lucia Celerrimus was born out of Harap and Zulejka Celerrimus. I can't explain how long those 8 weeks seemed to be, waiting before I could pick her up!!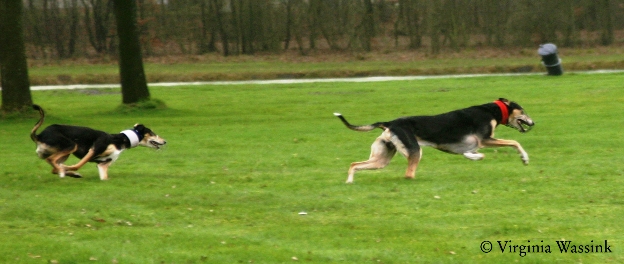 Very short after I got Lucia, another IG came into my household: Fiefoerniek's Fortunatus Pluto. Not exactly planned, but, he was white with grey spots! Very unusual, so I couldn't resist.
Lucia and Pluto grew up together, and still they are quite a duo!
Meanwhile I had dogs for several years. I went to shows now and then, but over the years it became clear to me that I definitely preferred the coursing and/or racings. In my opinion it is very important to work with dogs, not only to be pretty at shows. The ideal is a combination I think: a dog has to have the capability to run or cours, together with a typical appearance according to the standard.
It is a great pity that most people are more fond of showtitles than working titles. To be very honest: I think it is a great pity at all, that a lot of people are too fond of titles, whether show or coursing or racing. The quality of a dog does not only depend on a judge's opinion. So many judges, so many opinions. When people go to show after show, the chance is bigger to become champion sooner or later. Sometimes it makes me very, very sad to see how many people are "running" after dogs with titles.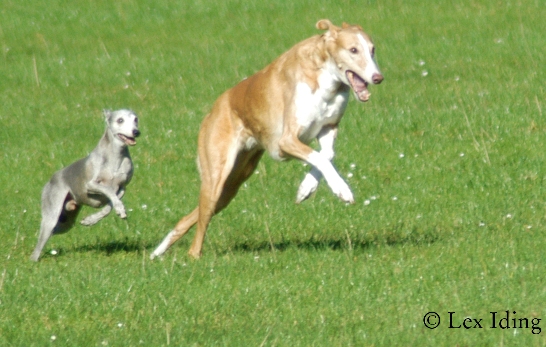 Shows are very important i.m.o. to see other dogs, meet other people/breeders to talk with. People have to coöperate to get the best results. Almost nobody can have 50 - 100 dogs to create an completely "own" bloodline, so the only solution is to work together. The most important thing is, that the best dog wins. So, the judge has to be a specialist with a great devotion to the breed. If you go to shows, try not to focus too much on titles! And listen only to people who have really something to say.
Remember where it all began: you fell in love with a dog, with a breed. Together with so many others, they all fell in love. Reason enough to share this, it's priceless.
Allright, where did I stay in telling my story...
Lucia and Pluto. Lucia came to the Netherlands together with her sisters Luna and Licencia Poetica. One year earlier also Cyryl and Charnak Erinnerungen crossed the Dutch borders, so there were 6 Chart Polskis then. In the beginning people didn't know exactly what to think about this breed. In the following years there came more interest in the Chart Polski, today there are around 16 Chart Polskis in the Netherlands. Lucia became mother of one litter in 2002. From that litter I kept Ikar and Isolde, their littermates all live in the Netherlands. I am very happy that all have found excellent owners.
For the publicity of the breed it was (and is) important to go to shows and coursings, and so I did with Lucia. Lucia loved coursing, but didn't like the shows that much. Despite of that, she did it quite well, but outside the Netherlands I hardly showed her. Coursing - as said - was her big favourite and she entered several coursings. Unfortunately she often was the only one, but gave a nice performance every time. Now she is retired but runs short distances at the trainings at the racetrack, just for fun. And, the most funny thing is, she runs together with my (almost) retired IG's! Just for about 60 meters, for the madness of the lure!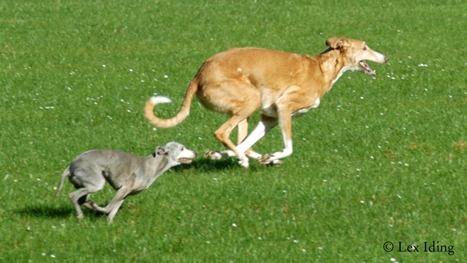 The almost retired IG is My Ceasar's Own Hurricane Hirius, he will be 8 this year. He came with me in 2001, he is a son of my so very special Kafiristan's Oberon. Contrary to his father, Hirius courses very well. Once in history, in 2002, there were enough IG's for a Dutch Coursingchampionship (for the IG's). Unfortunately IG's are also in minority at racetracks and coursings... but, that day the number was enough, and he became Dutch Coursingchampion!
I truly hope that there will be more and more Chart Polskis and Italian Greyhound at coursings (or racetracks) in the future. IG's are small dogs, but very strong and very fast! For this breed I think it is also very important to be capable to perform well. Too often do people have the idea that IG's are only fragile and tiny, but a well-bred IG is certainly not that! They are really big dogs with a BIG character in a small package. If someone say that they want to have an IG when they are old because they want to have it somewhat easier, I can only say one thing: Don't!!!
If you want to have fun in your house and every day to bring a surprise and a smile, I can only say: make your life happy with an IG!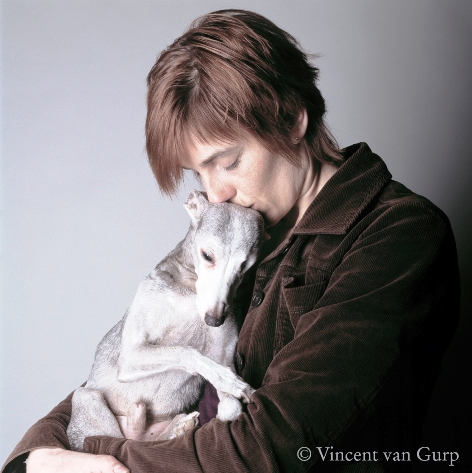 The Chart Polskis I have are raised with IG's. So, sometimes, I think, they think they are an IG. My CP's are real cuddlers, look like innocent sheep in the house. But, don't let them fool you... outside the house the wolf comes out! Their hunting-instinct is so very strong that no cat or hare or whatever to chase is safe! They are very strong in both ways; physically and mentally. I fell in love with them and I hope a lot of others will do the same. This breed deserves a good future, we can work on that together.
Love is the strongest when you share it!
For all doglovers,
Astrid Knaap
Zephyrus Favonius' Chart Polski and Italian Greyhounds